View our recent projects, including prime examples of our great-looking, water-saving artificial grass landscape. We've been busy transforming the homes and businesses throughout the San Diego area with our amazing turf products! See the difference that artificial grass can make in any landscape.
Recent Projects
San Diego Area
Residential Property
Homeowners installaed Coronado Riviera 65 throughout the backyard.
Combination of Emerald Green and Lime Green colors with Brown and Green thatching looks natural and realistic.
Durable and Forgiving texture to provide a safe and beautifully looking yard for the family to enjoy.
Drainage system in different spots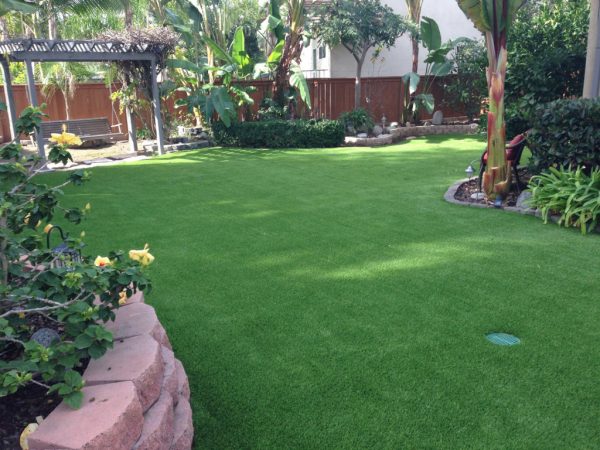 "The turf product selected for this property provided a great contrast to existing landscaping, a seamless transition. It further allowed the family to enjoy the lush green durable product, which was also a great fit for hosting any party or for kids to play on. This beautiful yard will last them for years to come. The drainage system was strategically placed for minimal intrusion and so that the grass always dries quickly."
– Coronado Best Turf Team
Scripps Ranch Area
A Residential Property
The homeowners chose Coronado Blade 50 for a darker shade of emerald green.
Front yard with Low traffic area.
Design integrate and blend the combination of artificial grass and desert landscaping concepts
The property is facing southwest so it gets a lot of sunlight during daytime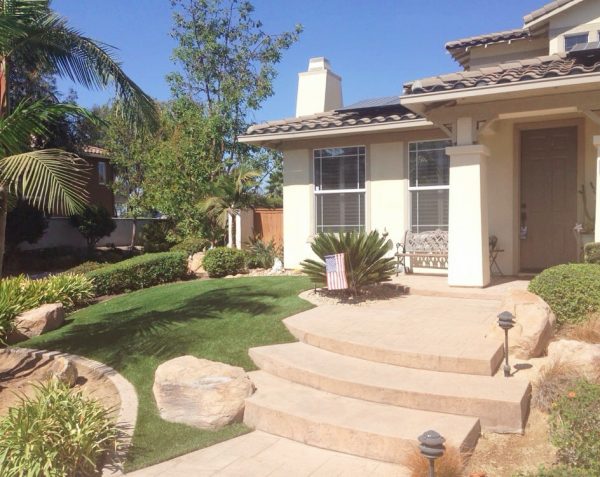 "With existing desert landscaping elements and heavy sunlight, we recommended turf product with deeper and darker green color so that it'd create great contrast any time of the day for the property! Curb appeal is important and we want the homeowner to enjoy the view everytime they walk out of the house"
– Coronado Best Turf Team
Our Artificial Grass Gallery provides images of our artificial turf and pavers installation throughout San Deigo. Business and homeowners have used artificial turf for their landscapes, pet turf for dog runs, playground grass surface for kid's play areas or parks, backyard putting greens and even for an athletic field. How will you incorporate our artificial turf into your home or business?
Concept to Creation – A Perfect Landscape all Year!
 Click on the Image and click the magnifying glass to view Artificial Grass Gallery for each landscape application.
Coronado Area
Commercial Property (Apartment Complex)
Business owners choose Coronado Pet Turf. Say goodbye to divots and dead spots.
Community space with heavy foot traffic for people with pets
Easy to clean with a simple wash and drain quickly
Applied with Zeofill infill to eliminate odors and doesn't block drainage systems or damage the turf blades.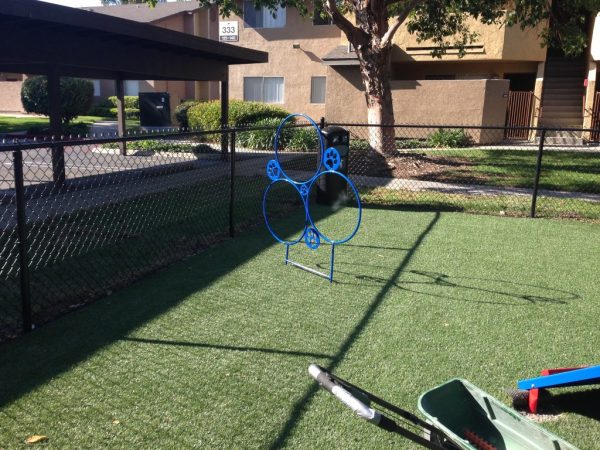 "For this apartment complex, Pet Natural Turf was installed because of shorter cut of the blade and durability. Also, we added more drainage system so that cleaning and maintenance are easy for Apartment staffs. Our customer can expect the turf to always look like the day it was installed, even after all the visits by all the dogs in the neighborhood."
– Coronado Best Turf Team
La Mesa Area
A Residential Property
Field Green color looks natural and realistic with Coronado Putt Emerald turf.
Contoured sub-base to provide some challenges for the golfers.
Multi-purpose use for recreational use and landscape beauty
The property backyard is elevated and existing trees in different areas.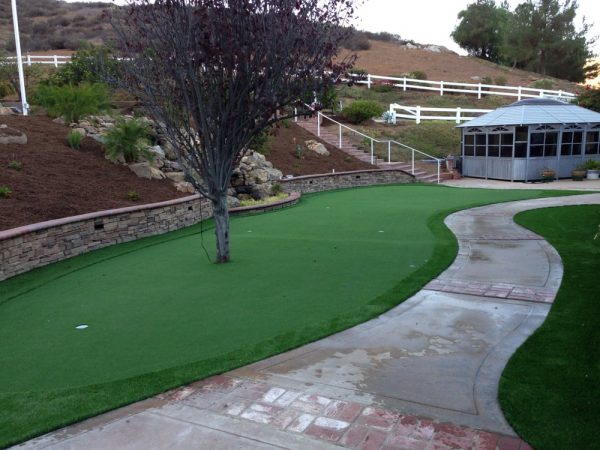 "Playful and functional were the goals for this property. We recommended 2 types of turf products. The shortcut blade for putting green two tones and Sierra turf with a longer blade and darker green color for the rest of the area. We set up the contour of the green according to the owner's request to give enough challenge when putting on this green. This backyard can serve different needs including events or parties, and always ready for any putting competitions!"
– From Coronado Best Turf Team