Living in San Diego, where drought conditions and dry weather are part of life, home and business owners are looking for ways to save money and create an outdoor environment with exceptional curb appeal. Artificial grass and pavers are the solutions to your answers. View our Artificial Putting Green, Paver Install Santee.
Artificial Putting Green, Paver Install Santee
Synthetic Grass: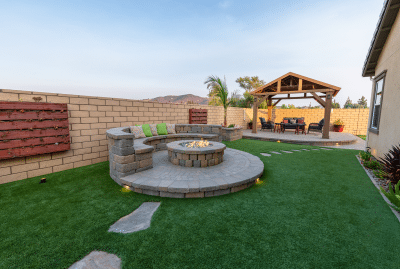 Artificial grass also requires minimal maintenance as well as no fertilizer, no pesticides, no mowing and reduces urban runoff caused by irrigation.
Other benefits of installing turf include:
Turf looks great year round,
Artificial Grass requires little maintenance,
Great for children and pets, our turf is certified Lead Free.
Artificial Grass Putting Greens:
Coronado Best Turf offers cutting-edge artificial putting greens can help you improve your golf game from the comfort and convenience of your own home. We offer a full line of turf and accessories. Putting Greens, Tee Lines, Bent Grass, fringe turf, flags and poles, a variety of cups, and cup lights all work in concert to improve your short game and take strokes off your score
Pavers, Concrete Services & More:
Choosing a surface can be challenging: Brick, poured and stamped concrete, and paving stones are among the many choices. Designed and constructed to withstand the harshest of weather conditions, any hardscape component maintains unsurpassable beauty and elegance. In addition, it is a great way to add interest to your landscape, patio, pool deck or driveway.
Retaining walls, free-standing border walls and columns are vertical features that can also generate interest in your yard. Also, outdoor living is the new trend for homeowners. And we will work with you to create attractive, livable outdoor spaces that are an extension of your indoor environment.
Pavers, Concrete or Artificial grass with Coronado Best Turf is great to save time, money, and of course, water. We can help you find the perfect landscape in Santee as we have affordable landscaping solutions to meet the needs of homes, businesses, and more!
Call Us Today +1 (619) 435-5296
Coronado Best Turf – 4231 Balboa Ave, Suite 1054 San Diego, CA 92117